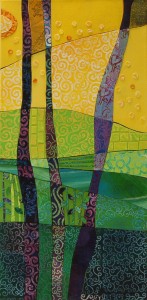 Every day we make hundreds of choices. What to eat, what TV show to watch, which bills to pay, when to run errands, when to go to bed… it goes on and on. Sometimes we are confronted with situations that force us to make hard choices. Do we do the right thing? Do we help others, stand up for what we believe in, do we contribute in some small way? Making choices can be exhausting and stressful.
Pendleton artists are sent emails every week with opportunities for participation in shows and competitions. Choosing the right venue for your work is so important . My work is certainly different than the traditional oil paintings of my colleagues. My new "Seeds" series is even more unique than my earlier work. When I choose a venue it is important to have a vision of where it will hang and who will view it.  Today I choose to put myself out there and apply for a venue that is dear to my heart. The new Springfield Regional Hospital is in the planning stages. It will be the end result of combining  Community and Mercy Hospitals in my hometown, Springfield, OH. When my parents were in their final few years, I spent countless hours in both of those hospitals. I was hospitalized a couple times at Mercy and born at Community. My grandparents both endured stays in both locations. I know how it feels to sit in the lobby, the hallways, the ER and the patient rooms. You want something good to distract you from the reason that you are in the hospital. You want something to give you hope and optimism. You want something to look at other than the monitors, equipment, pills, and the view out of the window looking over the parking lot.  I think my work would  liven up those halls and rooms. I think my work would add some bright color and inspire optimism. That is my choice today. Instead of participating in "Pimp Your Pumpkin" (a fun competition sponsored by PAC), I choose to submit art that may, just may, brighten someone's day.
What choices are you going to make today?