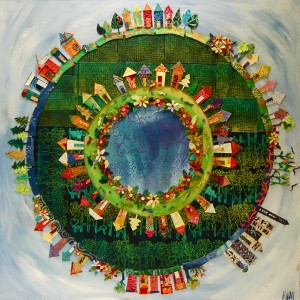 March comes in like a lion and goes out like a lamb? Our upcoming weekend is so packed that I think we are going out of March more like a lion. Friday night is FINAL FRIDAY at the Pendleton Art Center. We will be there from 6-10 with an assortment of sweet treats and wine. Drop in to #315 to visit but don't give us any "spoilers" on the OSU/KY basketball game, please. We will be racing out at 10 to go home and join the action. It is a big conflict of interest in our house- art/sports…. always a balancing act.
Saturday night, March 26th, is the opening of the Middletown Art Center show "Perspectives". My work is being shown with the work of: Barbara Chenault, Nelle Ferrara, Shannon Godby and Stacie Seuberling. All 5 artists maintain studios at the Pendleton Art Center in Cincinnati and were selected for this exhibit to showcase varying points of view. My 14 paintings focus on nature and my perception of the beauty of nature. The piece pictured above is called "It's a Small World". (when you hear that title don't you hear the Disney song???) This piece has a lot of detail and should give visitors to the show a lot to look at.
If you can make it to either Pendleton or the MAC, please say hi. I would love to see you!