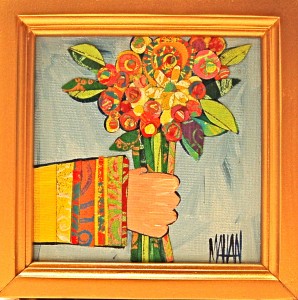 Here is a sneak peek at the brick that Mark and I completed for the 2011 brick auction. It is inspired by the Beatles lyrics-"The love you take is equal to the love you make." You can purchase this brick and have a great afternoon at the Cintas Center on October 30 from 2-5. I have often been asked- "Why bricks?" Here is the motivation for this unique fundraiser.
The "Bricks Along the Journey" Project was established as a symbol of life, rejuvenation, and hope. Bricks salvaged from the rubble of old buildings have been transformed into stunning works of art. This transformation is the perfect metaphor for the experience shared by all Breast Cancer survivors. We take these bricks that have been knocked down and bring them to life again. The brick auctions have been instrumental in raising money for various, local Breast Cancer agencies. In part from this effort, Cincinnati was able to place a delegate on the National Board of the Breast Cancer Alliance. The University of Cincinnati and Children's Hospital, in conjunction with the Breast Cancer Alliance of Greater Cincinnati secured a $9.6 million dollar grant for Growing Up Female. The National Institute of Health granted this money to study the impact of the environment on Breast Cancer.
Ellen Ganson was a co-founder of "Bricks Along the Journey". She lost her battle with Breast Cancer on September 26, 2006. Her love for life and her passion to ardently work for the eradication of Breast Cancer will continue to inspire her three beautiful children, husband, as well as countless friends, family, and artists.