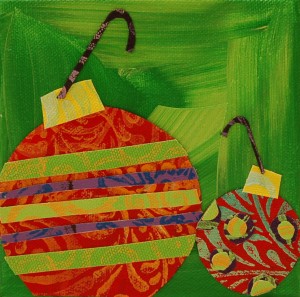 OK, I admit it… I have not  been in the Christmas spirit at all. It seems that  "pressures" have gotten to me lately. The pressure to keep my business afloat, the pressure of deadlines, the pressure of too many hours "performing" at shows, a perceived lack of appreciation; it's all had me feeling burnt out. My latest favorite song is Heywood Banks "Toast"! Anyway, you get the idea.
Yesterday I decided to do some shopping at WalMart to get things rolling. Baking accessories and new tree lights were at the top of my list. I could make time to shop between  art deliveries in an upscale part of town that is at least a half an hour away from home. The deliveries were at noon and  5PM, so, plenty of time to get some things done in between. I didn't want to drive to the store all the way near my home, so, I decided to use the new APP on my phone AroundMe. It is a great new app that my niece Melissa told me about. Hit it and it will tell you what is near you in every category you could hope for. Ok, there is a WalMart within 3 miles… perfect.
I found the store with no problem, iPhones really are the best invention ever, right? I walked in and was immediately hit with the sensation that this is not like the store in my neighborhood. People of all ethnicities were shopping and working. I had the sensation that these people were very sad and suffering the harsh realities of a bad financial situation. Ok, they were poor. I felt out of place immediately. Not uncomfortable, just out of place. I did what I always do when I feel overwhelmed, I called Mark. We discussed the lighting situation for the tree and I confided in him that I was feeling overcome with the pressure of the holiday season and also that this shopping situation was not going so well. He made me feel better so on I went to conquer my list of necessities.
Cart brimming over with rolls of wrapping paper, gift bags, baking supplies, lighted garlands, popcorn tins, you name it… I made my way to the check out line. My customer for the 5PM delivery called and asked if I could drop everything and be at her home in 45 minutes instead of in 3 hours. In a hurry to get checked out and unfamiliar with this store, I made my way to the shortest line. There were 4 people ahead of me. I waited patiently, checking my email and Facebook status and probably actually tapping my foot. When I was one person away from the register, I saw the sign that said "20 items of less". Oh no, I was in the wrong line and I had at least 45 things in my cart. I was horrified. I am a teacher and I follow the rules. There were only 2 other lanes open and they were 10 deep. I looked at the man behind me in line and he only had 2 things in his hands. I asked if he would like to go ahead of me and I expressed my dismay at causing him inconvenience (to say nothing of the 6 people behind him…) He said "Don't worry, I am not in a hurry." I told him that I was, and said I was sorry. As I tried to get the cart organized to make the checkout faster the man and I began to chat. We talked about Christmas shopping and how his wife was all finished with theirs. The more we talked the more I relaxed. He was so kind and obviously not bothered by what I perceived to be my rudeness. My sister in law used to tell me that I was too friendly to strangers and one day it would get me into trouble. Well, not on this day. This man, so shabbily dressed and obviously in need, gave me such a gift. He told me -SLOW DOWN and relax. Enjoy the experience. It's not a race.
The cashier believed  that I was not guilty of a horrible crime and was delightful. When the cash register totaled my items some kind of bell went off. She exclaimed, "You have been selected!" I had no idea what that meant. She told me I was getting a $20 gift card right then and there. It was probably because I went over some limit… who knows? Anyway, she excitedly handed me a gift card. Finally, the spirit of the season overtook me- I handed the unexpected gift card to the man who had been so patiently chatting with me. The man lit up brighter than the new lights for my tree. The cashier actually clapped. Oh my God, I created a mini scene… but in the best possible way. The spirit of the season filled me with joy! For that I am truly grateful.
My first year teaching we were asked to decorate our classroom doors with a holiday image that we personally favored. I chose the following words and a great big painting of the Grinch.
"It came without ribbons! It came without tags! "It came without packages, boxes or bags!" And he puzzled three hours, `till his puzzler was sore. Then the Grinch thought of something he hadn't before! "Maybe Christmas," he thought, "doesn't come from a store. "Maybe Christmas…perhaps…means a little bit more!"
Here I am, 35 years later, reminded how true these words are! It's ironic that I was reminded of this lesson IN WALMART!
Merry Christmas!